Born: September 25, 1906 in St. Petersburg, Russia
Died: August 9, 1975 in Moscow, Russia (age 68)
Shostakovich was a Soviet-era Russian composer and pianist and was the second of three children of Dmitri Boleslavovich Shostakovich and Sofiya Vasilievna Kokoulina. He became internationally famous upon the premiere of his First Symphony in 1926 and was regarded throughout his life as one of the major composers of the 20th century. His music is characterized by sharp contrasts, elements of the grotesque, and ambivalent tonality and he was heavily influenced by neoclassicism and by the late Romanticism of Gustav Mahler. Shostakovich died of heart failure at the Central Clinical Hospital in Moscow.
His orchestral works includes 15 Symphonies and 6 Concerti (two each for piano, violin, and cello); 29 Suites; chamber music includes 17 String quartets, a Piano quintet, and 2 Piano trios. His solo piano works include 2 Sonatas, an early set of 24 Preludes, and a later set of 24 Preludes and fugues. Stage works includes 10 Operas and 3 Ballets. Shostakovich also wrote over 30 Film scores and Vocal works
The Saginaw Bay Symphony Orchestra will be performing his Symphony No. 5 in D Minor, Op. 47 at its first concert on Saturday, October 22nd.
Source: Wikipedia
You May Also Be Interested In…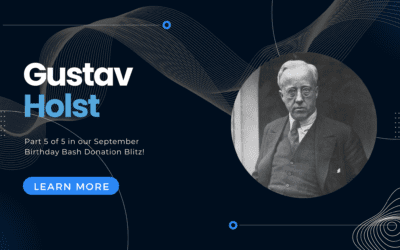 Born: September 21, 1874 in Cheltenham, EnglandDied: May 25, 1934 in London, England (age 59) Gustav Theodore Holst (born Gustavus Theodore von Holst) was the eldest of two children of Adolph von Holst and Clara Cox, née Lediard. He was an English composer, arranger,...