Born: September 4, 1824 in Ansfelden, Austria
Died: October 11, 1896 in Vienna, Austria (age 72)
Josef Anton Bruckner was the eldest of eleven children of Anton Bruckner Sr. and Therese Helm. Bruckner was an Austrian composer, organist, and music theorist best known for his symphonies, masses, Te Deum and motets. The first are considered emblematic of the final stage of Austro-German Romanticism because of their rich harmonic language and considerable length. Bruckner's compositions helped to define contemporary musical radicalism, owing to their dissonances, unprepared modulations, and roving harmonies.
Bruckner died of heart failure coupled with dropsy. He was buried in the crypt of St. Florian monastery church below his favorite organ.
Bruckner composed 11 Symphonies; 59 religious works including 17 larger choral works (7 Masses, 2 Requiems, 1 religious cantata, 5 Psalm settings, 1 Te Deum Hymn and a Magnificat Hymn); 40 smaller choral works including 16 Hymns; 44 secular choral works; 7 secular cantatas; and about 20 Lieder for voice and piano. Bruckner's chamber music includes 6 Scherzos for string quartet and about 50 small piano works.
The Saginaw Bay Symphony Orchestra will be performing his Symphony No. 4 in E-flat Major (Romantic) at its concert on Saturday, March 4, 2023.
Source: Wikipedia
You May Also Be Interested In…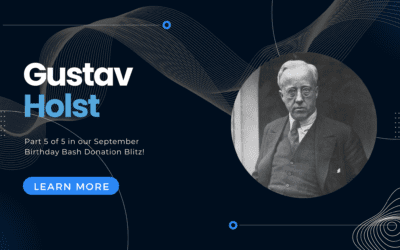 Born: September 21, 1874 in Cheltenham, EnglandDied: May 25, 1934 in London, England (age 59) Gustav Theodore Holst (born Gustavus Theodore von Holst) was the eldest of two children of Adolph von Holst and Clara Cox, née Lediard. He was an English composer, arranger,...