Born: September 8, 1841 in Nelahozeves in the Austrian Empire
Died: May 1, 1904 in Prague, Czech Republic (age 62)
Dvořák was born near Prague and was the eldest son of František Dvořák and his wife, Anna, née Zdeňková. Dvořák was the first of nine children that survived childbirth. Dvořák's style has been described as "the fullest recreation of a national idiom with that of the symphonic tradition, absorbing folk influences and finding effective ways of using them". In 1892, Dvořák moved to the United States and became the director of the National Conservatory of Music of America in New York City. He had an "attack of influenza" on April 18, 1904 and died on May 1, 1904, of an undiagnosed cause following five weeks of illness.
Dvořák wrote 9 Symphonies; composed over 40 Chamber music works for Strings, Piano, Violin and piano, and Cello and piano; over 20 Orchestral works including: 2 sets of Slavonic Dances; 6 Overtures; and 6 Symphonic poems; 10 Operas; 3 Concerti (for solo instrument and orchestra); 8 Concertante works; and many Keyboard music works for Solo piano. 
Source: Wikipedia
You may also be interested in…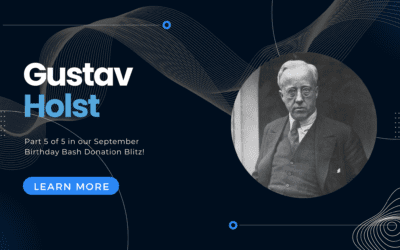 Born: September 21, 1874 in Cheltenham, EnglandDied: May 25, 1934 in London, England (age 59) Gustav Theodore Holst (born Gustavus Theodore von Holst) was the eldest of two children of Adolph von Holst and Clara Cox, née Lediard. He was an English composer, arranger,...